SORRY, THE CAMPSITE IS TEMPORARILY CLOSED
DÉSOLÉ, LE CAMPING EST TEMPORAIREMENT FERMÉ
Camping and chalet holidays in Languedoc Roussillon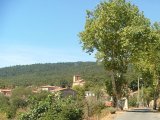 Au Coeur Du Chêne Vert offers a self-catering chalet and camping holidays in Soulatgé, Languedoc Roussillon, in the heart of the Corbieres.
The campsite is less than an hour's drive from the town of Perpignan, and lies between the steep Galamus Gorges and the spectacular Cathar castle of Peyrepertuse. Follow the Cathar trail to discover other equally impressive legendary Cathar castles perched around the campsite like pearls on a string: .... Quérbius and Puilaurens. And don't miss out on the mysteries of Rennes-le-Château and the thermal swimming-pool at Rennes-les-Bains.
On the way to the famous old city, the World Heritage Site of Carcassonne (about 1.5 hours from the campsite), you will pass the Canal du Midi through the foothills of the Corbieres and along the Aude River. We recommend stopping off to visit Limoux, the capital of the famous Blanquette. The Pyrenees Mountains are nearby, as is the famous Bugarach peak. You can also drop in on the prehistory Museum and cave in Tautavel to catch up with your ancestors or explore the Mediterranean coast and take in the picturesque villages of Collioure, Banyuls and Port-Vendres.
Sample some of the local wines in any of the nearby wineries, and take advantage of the rivers to cool down in on a hot summer's day. Or just take it easy and soak up the peace and quiet in the midst of nature in the magnificent region of Languedoc-Roussillon.