SORRY, THE CAMPSITE IS TEMPORARILY CLOSED
DÉSOLÉ, LE CAMPING EST TEMPORAIREMENT FERMÉ
Camping holidays in Languedoc Roussillon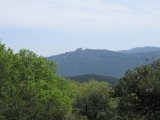 The campsite, Au Cœur du Chêne Vert, is laid out with plenty of space for each tent and a selection of more secluded spots tucked away between the trees, giving you privacy and comfort while surrounded by the beautiful nature of the 'Hautes Corbières'. You can pitch your tent in this idyllic setting from April to October.
Soulatgé is an ideal location for a camping holiday, whether you're looking to go walking, take in plenty of tourist sites or just enjoy a relaxing holiday in the sun. You will be able to purchase stamps, local products such as organic goat's cheese, eggs, and other produce in the village, just a short walk from the campsite. The local restaurant serves traditional meals and there is a small local market every Wednesday evening.
There are plenty of walks in the Hautes Corbières with beautiful scenery and a serene atmosphere. You might wish to visit one of the nearby castles of Peyrepetruse, Quérbius or Puilaurens, or take a trip to the seaside to spend a day on the beach.
The campsite lies on "Bugarach marls", made up of marly limestone at the base, overlain by marls with fossil sea urchins (Micraster, sea urchins generally found in loose sediments about a hundred metres beneath the sea) and other marine organisms such as corals, cephalopods,… These marls were deposited between 88 and 85 million years ago.
At Au Cœur du Chêne Vert you can discover an exceptional panorama and avail of your escapade in the South of France to relax and contemplate beautiful Mediterranean scenery.
Camping Prices - per day
Emplacement
Adult
Enfant 4-14ans

€ 5
€ 5
€ 3
per week
| | |
| --- | --- |
| 1 familly (1 emplacement 2 adults -3 children) | € 140/week |
Booking form